---
---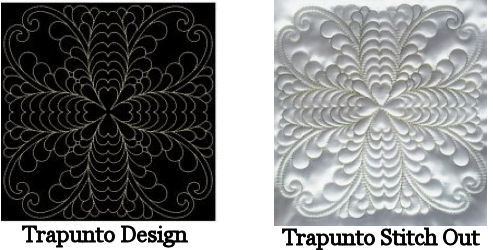 Trapunto Supplies:
Sharp scissors I like round edge scissors because the points catch in the batting when I trim Trapunto. You may also need very sharp, small scissors to get into small spaces.
Top fabric Solid cotton fabric in a medium to light color. I recommend solid cotton sateen because of the extra sheen of the sateen weave.
Trapunto batting I use Quilters Dream Poly (medium loft) for my Trapunto. It is important that the Trapunto batting stays soft and smooth, does not beard, and trims easily. You need a piece of Trapunto batting large enough to cover the Trapunto design. If your local quilt shop does not carry Quilters Dream batting, you can use another brand, or a dense cotton batting.
Trapunto designs Use the machine Trapunto design.
There are several simple steps to completing Trapunto by machine:
Step 1: Cut a piece of batting that is larger than the design area. Hoop the top fabric and
the batting together. If you want your Trapunto areas to be especially noticeable, try two layers of batting.
Step 2: Stitch out the Trapunto design.
Step 3: Carefully trim away the excess batting around the stitching. This leaves batting only in the places that you want to be puffy. Make sure you don't cut any stitches or the quilt top!